Fetish

377 MB
A REFLECTION ON BISEXUAL NARCISSISM!A modern telling of a classic tale: Narcissus, with a bi subtext that`s as erotic as it is thought-provoking.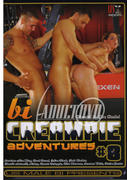 529 MB
Bi Creampie Adventures 8: These sexy sluts just love sex…and dick…any way they can get it… And when that includes a hot bi-sexual encounter…well it`s just that much more intense and satisfying! Watch these studs pound holes and unload their spew deep inside…filling up until it drips out

903 MB
Watch as these barebackin' bisexual ballers mix it up by raw fucking each other. Boy-boy, boy-girl, girl-girl, threesomes, you name it, this scorcher has something for everyone.

3.12 GB
What happened bihind closed doors stays behind closed doors, right? Job interviews and other such social functions where the pressure is on are fine opportunities to seduce applicants by showing them mouth-watering oversexed, beautiful women! But there's always a catch, and the catch in this case is the cock!

612 MB
A catfight erupts between a gorgeous blonde and an equally gorgeous dark haired beauty. It is tooth and claw from the very beginning before settling down to several exchanges of scissors. Grapevines follow; clothes are ripped off, leaving them both all but nude. More scissor holds follow before our blonde tortures her foe with a back bending full nelson while sitting in the small of her back. Now down to total nudity the fight ends with a grapevine and breast smother combo followed by a long, sensuous face sitting and vulnerable crotch attack.

215 MB
Mistress Kendra circled Her spread eagled submissive. She teased him with Her wooden paddle and tormented him with Her long legs, driving a high heel into his dangling hard on. She squatted and dished out some CBT and verbal humiliation and then stood and drove Her knee into him hard. After some rough handling, She tied his balls tight and strung them down to the spreader bar. Producing the wooden paddle, She dished out some corporeal punishment.

694 MB
Mistress Tangent is furious when he catches Slave Spartacus in her office, obviously up to no good. So she decides to teach him a lesson and teach him who's really the boss! She humiliates him by making him undress to reveal his silky stockings. She asks him "What the Fuck" he was thinking jerking off with her shoes when he was supposed to be doing chores for her. She chastises him and has him lay down on the floor at her feet for foot domination. Next, she tramples him, makes him sniff and suck her toes before indulging in her CBT fetish!

697 MB
Super turn-on Nancy with her incredible body and face and an ass to die for, faces black and proud Lexi, who has lots of attitude. It's all here as the fight unfolds–painful full nelsons, body-scissors, tit mauling, hair pulling, long, lingering schoolboy pins, suffocating breast smothers and even a super double body-scissors. Finally one fighter proves superior and what occurs is domination and facesitting at its very best. The beaten warrior cries, begs and pleads for release, but the onslaught continues and the domination is both sexy and fearsome, as the victor is now turned on by her own power. The victor's triumph is punctuated by some of the most punishing, sexy, and awesome facesitting ever and you'll see till the ending.

946 MB
A voi il desiderio perverso di Francesca. Lei ha sempre voluto farsi scopare da un trans!

1.39 GB
She has out of this world fire colored red hair and enormously perfect tits that don't belong on a twenty year old. I admit to lusting after her and spending lots of time in my room relieving my sexual angst over her with usually my right hand. I fall asleep at night hoping to have some kind of realistic dream of the many things I would like to do with her or have her do to me. It's like her every move oozes sex and it drives me crazy with desire for her. One night I had just fallen into deep sleep when she appeared in my room in a skin tight space looking outfit advising me she was there to collect my sperm to populate her planet with man slaves.