Grannies

646 MB
These women stay in shape despite their age. They will fuck and fuck until they drop.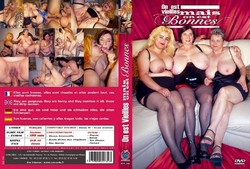 694 MB
Plus que jamais l'on se dit que c'est dans les vieux pots qu'on fait la meilleure soupe ! Agées de 40 à 55 ans, ces joyeuses coquines sont très demandeuses de sexe et le prouvent.. A noter : baise en trio, lesbianisme, éjacs, et même doubles-pénétrations !!


700 MB
If I hadn't seen it with my own eyes I wouldn't believe how well these mammas can suck suck! These moms won't stop till the last drop! The older these women get the more hornier they are. It's easier on the eyes if you don't have to see the guy, especially since you probably want to imagine YOU'RE the one doing it, and what better way than with POV No. 8? Come watch six grannys in action!

668 MB
Grandma's wearing a tight, short skirt, fishnet stockings and she's ready to fuck! Even girls who eat pussy get old, Watch pussy hungry grannies lick wet old pussy!

1.4 GB
Wenn die faltige Spalte immer wieder juckt und zuckt…


730 MB
Sonderausgabe 23 – Omas Fotzendehnung Mit erfahrenen Händen, einem wissende´m Blick und einer trainierten Muschie nimmt Oma ihre Schüler in die Mangel. Jungen Burschen zeigt sie, wie sie die Rohre zum spritzen bringt. ann geht es ohne Pause zum Sack-Lecken und binnen weniger Sekunden stehen die Stangen wieder einsatzbereit. Die Girls schauen zu und staunen, lernen und wichsen. Sie wollen von Oma wissen, wo und wie es zum explosiven, gigantischen Orgasmus geht.