News

731 MB
Real big tits for you to suck, fuck and play with. Don't miss out on these fun bags!

700 MB
Film-Studentin Lucia hängt mit dem Mund am Ro*r wie eine Klette und läßt sich von Bimbo Theo die Rosette aufbohren, daß es eine Pracht ist. Janet und Monika, verführen ihren Zahnartzt nach allen Regeln der Kunst. ge*l, wie Janet den st**fen Riemen aus Monikas ar***lo*h zieht und sich den heissen sa*t in den Mund spr**zen läßt. Nonne Angelika ist ihrer Fleischeslust hemmungslos erlegen und läßt sich hinter "heiligen" Klostermauern die Unschuld rauben. Die blonde Musik-Studentin Sabrina hat herrliche, große, weiche Natur-Brüste und läßt sich von Tanz-Teenie Anna genüßlich die Weichteile schlec**n. Viel Spaß!

441 MB
This married couple has no scruples and they're both out to ensure that they get their fantasies fulfilled. A swinging Husband and Wife decide to take their open relationship to the next level when the Husband decides to Share his wife. With who, one might ask? And the answer would of course be with a big, muscular, strong man with a big black cock!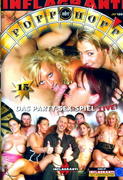 947 MB
Check out the latest from Inflagranti Film Berlin, Popp Oder Hopp 15: Das Party-Sex-Spiel Live, featuring the hottest women in action from Germany!

700 MB
Sie hat maechtige Titten und diesen gewaltigen Dingern beim Schwingen zuzusehen ist das reinste Vergnuegen. Lydia P. ist eben ein echtes Vollweib, dem man den Spass beim Liebesspiel im Gesicht ansehen kann. Nicht minder scharf sind ihre jungen Kolleginnen in dieser Produktion. Auch ihnen kann man nur mit einem ordentlichen Liebesknochen eine echte Freude machen …!

589 MB
Calling all latin lovers! These are 100% all Latina big busted ethnic beauties! These Latina chicks have got… really big tits! This is the only Tatiane Lima video.

945 MB
I love tits, real big tits. These girls have the nicest tits around. Feel them, I did!!!

945 MB
Stars: Angel West, Jay Serling, Karen Summer