News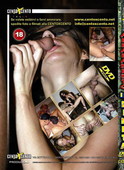 849 MB
Italian amateur fucking. Amateur film shot by ordinary people and without a condom. Ordinary people but loves sex in all its forms, as few do. Each hole is exploited, the search for pleasure stronger and more complete.


973 MB
Playing with pussy is something they have become really good at and when the boyfriend is not around they love to make themselves cum.


1.36 GB
These horny, big-boobed nurses love providing that "extra" care! It gets them so excited, they just have to cum, and when they do, they soak everything in sight! Now that's a health plan!


1.25 GB
This German pair has a lot of fun with an assortment of toys, fun with clothespins and pantyhose. They are busy having so much fun that they invite a few friends over to play as well! All these toys add up to one big party at the end. All are welcome, sharing is encouraged and all things will be explored in this hot BDSM flick!


1.85 GB
Geiles Treiben in der Nachbarschaft.

1.6 GB
Pas vraiment satisfaite par la taille de la bite de son mari, Emily aimerait exceptionnellement se taper une grosse queue. Amel, sa meilleure amie, lui propose de lui prêter son plan cul, un mec particulièrement bien membré. Le mari d'Emily accepte que sa femme prenne cet énorme sexe, mais il veut quelque chose en échange…

1.4 GB
When you want something bad enough, sometimes you just have to take it. Ryan Madison has his sights on a number of beautiful women, they just don't know it yet. He follows them home, creeping around outside their houses, stalking his sexy prey until he catches them unaware. He gives them the fucking they didn't even know they needed, leaving them with pussies full of strange cum! 700 MB
I Studenterfesten møder vi 3 frække unge studiner, og 4 unge studenter der holder en lille privat fest i anledningen af deres nyerhvervede studenterhuer. Festen udvikler sig til et fantastisk sexshow og gangbang, når de 3 studiner smider hæmningerne og tøjet. Nyd denne fantastiske film med blandt andre.