News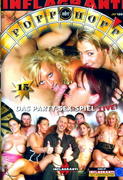 947 MB
Check out the latest from Inflagranti Film Berlin, Popp Oder Hopp 15: Das Party-Sex-Spiel Live, featuring the hottest women in action from Germany!

700 MB
Sie hat maechtige Titten und diesen gewaltigen Dingern beim Schwingen zuzusehen ist das reinste Vergnuegen. Lydia P. ist eben ein echtes Vollweib, dem man den Spass beim Liebesspiel im Gesicht ansehen kann. Nicht minder scharf sind ihre jungen Kolleginnen in dieser Produktion. Auch ihnen kann man nur mit einem ordentlichen Liebesknochen eine echte Freude machen …!

589 MB
Calling all latin lovers! These are 100% all Latina big busted ethnic beauties! These Latina chicks have got… really big tits! This is the only Tatiane Lima video.

945 MB
I love tits, real big tits. These girls have the nicest tits around. Feel them, I did!!!

945 MB
Stars: Angel West, Jay Serling, Karen Summer

970 MB
Ancora un altro grande inedito che vede protagonista l'indimenticabile Moana Pozzi. Un cast d'eccezione per un nuovo grande miracolo firmato FM. Buona visione a tutti i nostalgici e non…

764 MB
Cathy Ménart plays Hélène, the chemist of the village, and the priest's sister. Elisabeth Buré is Olga, a nun who lives with the priest. The priest is a funny fellow who seems to enjoy talking about sin and about wine being Christ's blood. At the hotel, the wine merchant gets acquainted with Ginette, a black maid, and asks her about the nice lady he's met. His description fitting the maid perfectly, she offers her slender body for his wristwatch. It's a deal! André's wife, who is a friend of hers, invites Ginette to her place and in the meantime, takes care of herself…


933 MB
Baseado num relato escrito e vivido por Telma de Brasília. Com Diana Lins (capa), Caroline Vitória, Yasmin Vianna, Dino Miranda e Russinho – Direção de Richard de Castro.


716 MB
Depois do envolvimento com a irmã mais nova, Dino esqueceu o passado e vive sua vida normalmente. Porém, 2 anos mais tarde, após uma noitada de farra, Dino envolve-se em um trágico acidente que deixa-o numa cadeira de rodas. Agora só a irmã mais velha para aliviar os desejos do irmão.