News

449 MB
You don't want to intrude on a Muscle Girl in her hotel room, especially if it's Ashlee Chamber's room. She will knock you out, and literally! Watch how she greets her intrusion dressed in a knock out slitted black mini dress. He is quickly thrown to the bed where she proceeds to dominate him with her lean, hard, muscular physique and making him worship her the entire time.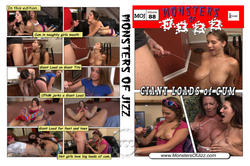 1.19 GB
Scene 1: Brandy's parents are upset that she gets a new piercing and also hasn't been obeying her curfew. She's punished with a spanking and when that doesn't work, she has to suck cock and take a thick load to the face.
'Oh, so you want to be the girl? OK, so I guess I'm stuck being the man. I'll start by playing with your nipples. Come on, stick those moobies out titty-boy. Let's get this "ARMY" shirt off. I think we all know you're not in the ARMY, but there's been plenty of ARMY in you hasn't there girly-man?'
I'm all for having hot girls make full-grown men their bitches, but the key word is "men". This guy is such a girl, I don't know, it's kind of a turn-off. The girl seems like someone with no experience who is just doing what she's told and it's all new to her. She's dainty and slow which doesn't make for especially good femdom.

736 MB
Legit idea here; you get couples with strange age ratios, they're more likely to be swingers anyway, right? Not only is the age gap interesting, a lot of times they have mismatched body types as well (ie bigger, older lady with young twink bait). The rest is pretty simple- just add some quality lighting, camera direction, and teach the couples how to keep it lively. Really really solid. The scene where the older thin cuckold gets eaten out while holding the hand of her young hubby nearby was cold as ice.

2.11 GB
When your boyfriend has been misbehaving, you know that the best way to get his ass back in line is to flip the script and, well…put his ass on the line! That's right ladies; you gotta break out your biggest, pinkest strap on cock and nail that dude's prostate until he's begging you for forgiveness! Sometimes you might even want to recruit your BFF to help out and make sure all his holes are filled from back to front. Don't worry about hurting his feelings either; we all know that at the end of the day, your boyfriend loves getting his ass sodomized by his beautiful girlfriend's big pink cock!

652 MB
The only thing bizarre about this swinger's club is that it's simply not possible for this many amazingly gorgeous and unabashedly promiscuous women to married to such a string of random losers. Unless of course you believe that penis length is the only thing Japanese woman care about (and for all we know about the national average in size, it might be). Very hot ladies in very good sex scenes.

1.11 GB
I'm a fan of these types of video because they're so erotic. She has the look of a very experienced older woman and you just want to let her dominate you. There's a series of women here and several of them are hot!

574 MB
Muscle Girlz Kris Clark and Muscle Foxx invite you to cum join the fun of Muscle Worship! These ladies are of the same height/weight and are super muscular! It's a showdown of Blonde vs. Brunette with bicep and leg comparisons, both of which are truly exceptional! Then it's onto a hypnotic bouncing pecs duel! These girlz are touchy feely the whole time (we bet you wish it was your hands all over these marvelous Muscle Girlz!) Next up, there's some awesome lifts 'n carries and then it's down to the mats for some wrestling in a powerful showing of action and strength!

697 MB
Die suesse Alexis drueckt sich in der Sauna vor der Arbeit im Schwimmbad und raucht heimlich eine Zigarrette. Doch Badegast Philippe Soine hoechstpersoenlich hat sie laengst erwischt und bestraft ihre enge, kleine Pussy …
Als Unternehmersgattin Britt nach Hause kommt und ihre Putzfrau schlafenderweise auf dem Sofa erwischt, poliert sie ihr zur Strafe das enge Hinterteil. Auch ihr Mann, der spaeter dazu stoesst, beteiligt sich an der Bestrafung, indem er die junge Schlampe seinen knallharten Pruegel spueren laesst …