News

1.4 GB
Nel III Reich gli interrogatori dei maschi più "grossi" venivano affidati ad una squadra di vere troie, per carpire i migliori segreti, peccato che le carnefici si trasformino in vittime, dove saranno loro poi a spifferare ogni cosa! Poteri del cazzo!!!


690 MB
Nel convento di suor Ubalda ne succedono di tutti i colori. Con un cast così è logico, bellisima produzione, film assolutamente imperdibile!!!!


1.16 GB
Epopea scolastica tra giovani studentesse. Parenti e vecchi professori avranno la meglio su queste giovani troiette! Non perdetele!

1.37 GB
In un campo militare arriva una splendida dottoressa, che stravolgerà la vita dei militari.

764 MB
Splendide ragazze vi mostreranno come sanno prendere grossi cazzi !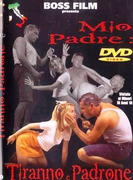 794 MB
Un padre che ama troppo le proprie figlie… al punto di incularle!
A father who loves too much the own daughters… at the point of buggering them!