News

612 MB
A catfight erupts between a gorgeous blonde and an equally gorgeous dark haired beauty. It is tooth and claw from the very beginning before settling down to several exchanges of scissors. Grapevines follow; clothes are ripped off, leaving them both all but nude. More scissor holds follow before our blonde tortures her foe with a back bending full nelson while sitting in the small of her back. Now down to total nudity the fight ends with a grapevine and breast smother combo followed by a long, sensuous face sitting and vulnerable crotch attack.

697 MB
Super turn-on Nancy with her incredible body and face and an ass to die for, faces black and proud Lexi, who has lots of attitude. It's all here as the fight unfolds–painful full nelsons, body-scissors, tit mauling, hair pulling, long, lingering schoolboy pins, suffocating breast smothers and even a super double body-scissors. Finally one fighter proves superior and what occurs is domination and facesitting at its very best. The beaten warrior cries, begs and pleads for release, but the onslaught continues and the domination is both sexy and fearsome, as the victor is now turned on by her own power. The victor's triumph is punctuated by some of the most punishing, sexy, and awesome facesitting ever and you'll see till the ending.

449 MB
You don't want to intrude on a Muscle Girl in her hotel room, especially if it's Ashlee Chamber's room. She will knock you out, and literally! Watch how she greets her intrusion dressed in a knock out slitted black mini dress. He is quickly thrown to the bed where she proceeds to dominate him with her lean, hard, muscular physique and making him worship her the entire time.

574 MB
Muscle Girlz Kris Clark and Muscle Foxx invite you to cum join the fun of Muscle Worship! These ladies are of the same height/weight and are super muscular! It's a showdown of Blonde vs. Brunette with bicep and leg comparisons, both of which are truly exceptional! Then it's onto a hypnotic bouncing pecs duel! These girlz are touchy feely the whole time (we bet you wish it was your hands all over these marvelous Muscle Girlz!) Next up, there's some awesome lifts 'n carries and then it's down to the mats for some wrestling in a powerful showing of action and strength!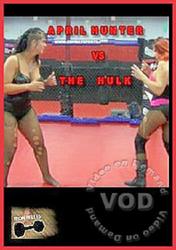 423 MB
This is a true clash of the titans! Two Arch Nemeses together for the very first time ever in the cage for an explosive fight! Featuring April Hunter (ex-WWE Pro Wrestler) and Hulk Huxly, an amazon beast of 6 ft., 200 lbs in a very active and exciting match.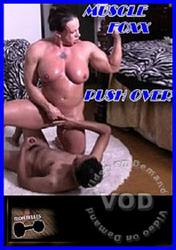 464 MB
Muscle Foxx can leg press 1500 pounds, bench press 225 pounds – and her newest push-over Reggie! With 16.5" biceps, 28" legs and 16" inch calves; it's no wonder the Foxx dominates him to the point of humiliation! Scene one features the buff beauty swinging Reggie around like a rag-doll before she uses him as a human dumb-bell during calf lifts! Afterwards, he proclaims all he wants to do is worship her…so she lets him as she stands over him and rubs her clit while he jacks off until the oddest couple ever moans and climaxes together!

458 MB
A very muscular female performer and model has become unhappy with her lazy agent. This time, the agent has failed to pay the woman $500 for a recent appearance, so she decides to take matters into her own hands. The woman's agent is brash at first and doesn't realize how powerful and what a wizard she is on the ground and with her wrestling and submission skills. However, after a few choke holds and getting thrown around like a rag doll, he will certainly never forget!
570 MB