News

1.6 GB
Sie machen ihrem Namen alle Ehre, sie vögeln bis nichts mehr geht und sind ständig dauergeil. Doppelloch Stuten sind versaut und wollen, dass ihnen jedes Loch gestopft wird – immer und überall!

1.79 GB
The Private health service taken to a level so deep and raunchy that it will blow your mind. We have Alison, Sheila Stone, Kissy Kapri, Jennifer, Ariana, Ionie Luvcoxx and Bonita all visiting the doctor for a thorough medical checkup. Is there something wrong with my ass, they wonder? Do not worry ladies, the medicine will come right up your rectum in no time!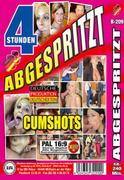 1.92 GB
There is nothing that these German sluts won't do! They engage in cock sucking, orgies, one-on-one action, and anything else you can imagine. They are not satisfied until their itch has been scratched and their pussy, mouth or ass filled with throbbing sausage. This contains uber action that is not for the weak!


335 MB
Performers: Loni Sanders, Lisa DeLeeuw