News

2.18 GB
They are the most beautiful pornstars in Europe, but they are the biggest! These sluts have got plenty of cushion for the pushin' and our young studs have got their hands full with these horny fatties. It's not just their tits that bounce up and down when they get fucked hard – their bulging bodies shake all over as they take cock!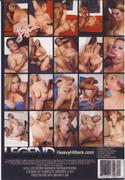 1.95 GB
For all you chubby chasers out there, have we got a DVD for you! These plump babes are just waiting to be pumped full of your hot, juicy load. So what are you waiting for? Pop this Video in and join the fun! You're going love their lucious lady lumps!

998 MB
Italian amateur fat woman fucking.