News

315 GB
This housewife is getting it right where she wants it, up the ass!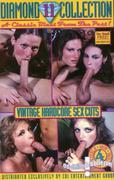 804 MB
Volume 11 Includes: D238 – Hair Raiser; D205 – Post Hole; D006 – Housewife's Dream;
D268 – Pool Service; D239 – Window Washer Girl

919 MB
Oliva's new movie presents four scenes of erotic pleasure! In the second scene, a lucky pizza delivery guy gets to watch a pretty housewife pleasure herself with the aid of beads! The third scene pairs two actresses who go through a range of sexual activities and finish the scene by showering in one another's arms!


740 MB
When you're a horny housewife left at home to your own devices it is impossible to say what will happen. In all likelihood though, it will be something naughty and pleasurable. These housewives could care less how they get off as long as they can cum. Rather it's the cleaning lady, the toy stored in the kitchen drawer or the vacuum hose; it makes no difference when you're a busty slut in need of an orgasm. Anything will serve as a tool to cum for these big fat housewives.


1.36 GB
Diese Pro Amateur Spezialausgabe zeigt die brave Hausfrau von ihrer versauten Seite. Wenn der Haushalt erledigt ist und die Kinder versorgt sind, kümmert sie sich liebevoll um den Herrn des Hauses. Mit der Routine eines Profis umsorgt sie dessen "bestes Stück". Getrieben vor allem von Eigennutz, denn sie wartet nur darauf sich damit ordentlich vergnügen zu können …!


1.03 GB
BEX Television is proud to bring you Naughty Housewives Part 3! These hot German housewives demand attention and they get a hard cock! These horny sluts will suck and fuck their men until they cum! And because they are mean housewives, they demand to be satisfied first!


600 MB
Imagine being married for a while and realizing that you are still attracted to other women and your wife is still attracted to other men. What's a couple to do except explore other couples who are having the same problem. Watch these swingin' couples swap spouses. Tiny blonde bombshell Diamond Foxxx gives an amazing performance. In her first scene with her Tennessee accent. Bianca Pureheart and Lonni Lei along with anal lover Olivia O'Lovely finish out this look at wife swapping!