News

1845 MB
Muscle babes over-power men and fuck them with strap-ons!

1.1 GB
Dave Nelson, a self-proclaimed former pro football player, makes his X-rated movie debut as a musclebound stud who finds women eager to jump into bed with him at the drop of a dumb bell. Ron Jeremy follows up his John Bobbitt media celebraty turned porn star concept, this time bringing second string footballer Nelson to the hardcore screen. A handsome, black steriod case, Dave has a decent sized dick that gets and stays hard, making him a first string sexcid stud. Nelson missed his calling and Jeremy still can't direct anything other than a sex scene


449 MB
You don't want to intrude on a Muscle Girl in her hotel room, especially if it's Ashlee Chamber's room. She will knock you out, and literally! Watch how she greets her intrusion dressed in a knock out slitted black mini dress. He is quickly thrown to the bed where she proceeds to dominate him with her lean, hard, muscular physique and making him worship her the entire time.

574 MB
Muscle Girlz Kris Clark and Muscle Foxx invite you to cum join the fun of Muscle Worship! These ladies are of the same height/weight and are super muscular! It's a showdown of Blonde vs. Brunette with bicep and leg comparisons, both of which are truly exceptional! Then it's onto a hypnotic bouncing pecs duel! These girlz are touchy feely the whole time (we bet you wish it was your hands all over these marvelous Muscle Girlz!) Next up, there's some awesome lifts 'n carries and then it's down to the mats for some wrestling in a powerful showing of action and strength!

567 MB
Scenes from: The Big Switch, Passion By Fire, Innocence Lost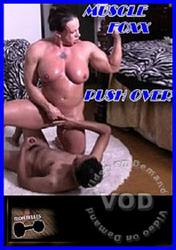 464 MB
Muscle Foxx can leg press 1500 pounds, bench press 225 pounds – and her newest push-over Reggie! With 16.5" biceps, 28" legs and 16" inch calves; it's no wonder the Foxx dominates him to the point of humiliation! Scene one features the buff beauty swinging Reggie around like a rag-doll before she uses him as a human dumb-bell during calf lifts! Afterwards, he proclaims all he wants to do is worship her…so she lets him as she stands over him and rubs her clit while he jacks off until the oddest couple ever moans and climaxes together!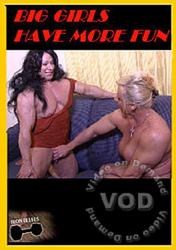 470 MB
Colette Guimond and Nuriyev Evans are packing some massive muscles! These girls love to flaunt and play with each other's big arms as they discuss their sexual fantasies. The action between these two heats up as Collette takes off Nuri's top, and then starts to play with her nipples. These girls go to town as they touch each other, as Nuriyev shows off her big clit. The fun doesn't stop there, these two beefy chicks start to arm wrestle and then caress each other on the couch. You won't want to miss this special treat; these girls are big, muscular and love to show you what a good time really looks like.

471 MB
Ashlee Chambers is on a mission to bedroom train her new client! The buff beauty wakes her new charge and starts off pumping up her biceps with his bodyweight by carrying him in a fireman's carry and does a set of squats followed up with piggyback riding, and the shoulder lift and carry for her core workout! She's only beginning here guys, boy oh boy does she have great stuff in store for you! Now it's starting to really get down to core business! She performs some awesome ab crunches with her trainee's head until it's it's time to do some training on his male member. She grabs it in her hands and works him over. Then she does some great titty fucking with his hard cock!
868 MB