News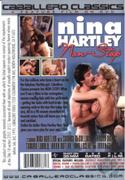 867 MB
Nina Hartley was born March 11, 1959 in Berkeley, California

903 MB
Performers: Nina Hartley, Keli Richards, Jerry Butler, Billy Dee, Mike Horner, Alexis Greco,
Herschel Savage, Jon Martin, Scorpio, Damon Christian
Debbie Duz Dishes was one of the most popular adult movies in the 1980s, and now you can discover for yourself why adult movie fans still love this classic!

716 MB
Sugar is tired of her older sister, Candy, getting all the attention. She's a woman now and she's determined to prove it to both the guys and girls alike. Watch her slut it up in ways that will surprise both you and her sister. You'll soon be a believer … she's tastier than Candy!


859 MB
Starring: Jeanna Fine, Nina Hartley, Shanna McCullough,
Ron Jeremy, Joey Silvera, Breezy Lane, Christen Carson

1.19 GB
ABA features one of the most requested sluts by fans of vintage porn, Little Oral Annie. Combined with a youthful appearance, big swinging jugs, and an unlimited arsenal of sexual skills, Annie made herself a household name with her willingness for deep throating, anal, kink, fetish and more! This collection of 11 rare scenes shows Annie's tight asshole ravaged, her legendary cock swallowing and her appetite for fresh pussy with porn sluts Angel Cash and Nina Hartley!!


425 MB
They're back! The gang that exposed the dark side of the wedding, the bottom of the brides now is here to show you how to acheive an open marriage. The director of Honeymoon Ranch, Mr. Thaddeus (Robert Bullock) has assembled another fine staff (Nina Hartley, Ray Victory, Nina de Ponca) to instruct the students in the analmentary art of backdoor sex. After a year of marriage, Stan (Frank James) and Sally (Dana Lynn) have drifted away from the romantic backside adventures that made their marriage so exciting. Their sexually liberated new neighbors (Peter North and Tiffanie Storm) express the same problems. The solution, obvious, a trip to Honeymoon Ranch for a "rear refresher" course! Times have changed yet the crack staff at the Ranch will still take "butts" for an answer.


847 MB
Starring: Moana Pozzi, Buck Adams, T.T. Boy, Leanna Foxxx, Nina Hartley, Sean Michaels, Alexandria Quinn