News

1.8 GB
Die dicktittige Christiane, 55, hat ihre Freundinnen Ute, 51, Ella, 38, Nicole, 35 und Nikki, 37 zur Popper-Party eingeladen. Beraterin Diana kommt, um die neuesten Dildos und Toys sowie Dessous und Accessoires vorzustellen. Nach ein paar Gläschen Champagner juckt es den Damen gehörig zwischen den Schenkeln. Es dauert nicht lange und die Party artet zur Orgie aus. Ute fickt Strapsmaus Nikki mit einem Strap On, Ella, schon mächtig angeheitert, schiebt Kiki eine Plastik-Banane in´s klatschnasse Feuchtgebiet und lässt ihrer flinken Zunge freien Lauf. Der Sekt fließt in Strömen und den Damen gelüstet nach echten Schwänzen aus Fleisch und Blut. Im Handumdrehen besorgen sich die Ladies 5 potente Stecher und 10 Minuten später ist die versauteste, schweißtreibendste Hausfrauen Popper-Party die Ihr je gesehen habt in vollem Gange. Schamlos lassen sich die Flittchen sämtliche Löcher stopfen und wichsen und blasen jede Eichel die in Reichweite ist. Umherschwappende Euter, weit aufgerissene Mäuler und Schweinereien wohin das Auge blickt. Die Hühner fliegen von einem Orgasmus in den Nächsten. Ein Sperma-Feuerwerk vom Feinsten krönt diese oberaffengeile Hausfrauen-Party. Viel Spaß!


1.20 GB
BBW lesbian porn! Welcome to a big fuckin' lesbian orgy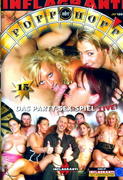 947 MB
Check out the latest from Inflagranti Film Berlin, Popp Oder Hopp 15: Das Party-Sex-Spiel Live, featuring the hottest women in action from Germany!

1.25 GB
This German pair has a lot of fun with an assortment of toys, fun with clothespins and pantyhose. They are busy having so much fun that they invite a few friends over to play as well! All these toys add up to one big party at the end. All are welcome, sharing is encouraged and all things will be explored in this hot BDSM flick!


718 MB
Are you craving dirty German whores? Well this should be your last stop because you can't get any nastier than these cum hungry freaks. Anal is their specialty! These whores prove how much they love to fuck as they bend over and get their fuckholes stretched to the max from hard cocks pounding away!


698 MB
When these girls get off work – they really get off!
When these dudes exceed their quota, they get a piece of the pussy pie!
At the end of a long, hard day, the factory workers surprise their beloved boss by remembering his birthday. They might not have cake, but they have lots of champagne – not to mention tons of pussy, and since the girls are eager to share, the boss' birthday bash soon turns into an all out fuck fest! If every factory operated this way, with so many slutty secretaries on hand to fuck, maybe more people would look forward to going to work every day!

1.36 GB
MESSY SEX PARTY FANS, GET READY for another hot fresh load of orgy action as MAD SEX PARTY brings you two huge out-of-control ragers, with loads of HOT FUCKING ACTION featuring some of the hottest Hungarian babes with the tightest bods and the biggest tits, fucking like there's no tomorrow! In the first fuckfest, Cunt Carniv…le , we take you to a raucous Carniv…le party that becomes a champagne-soaked, silk-and-satin drenched orgy. Then everyone gets their paint guns out and completely colors a room, and each other, and end up in messy paint-covered debauchery in Paint Party. Don't miss out! Dive into all the out-of-control orgy action now, only from MAD SEX PARTY!

995 MB
Es ist wie man es sich vorstellt: Der Künstler versucht verzweifelt nach Inspiration für sein neues Werk, während seine Freundi sich schwer vernachlässigt fühlt. Dabei wären sie ein perfektes Paar. Allerdings will Conny Dachs einfach nichts für seine neue CD einfallen. Langsam macht sich so etwas wie Panik bei ihm breit. Auch seine Freundin, Sina Berger, leidet zunehmend unter seiner kreativen Ladehemmung. Und so kommt es wie es kommen muss: Ein jeder sucht sich zu trösten, abzulenken oder ganz einfach auf einen zündenden Gedanke zu kommen.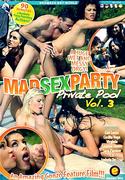 698 MB
What's better than jerking off while watching a hot chick get fucked? Jerking off while watching 10 of them get fucked, suck cock and dyke-out XXX hardcore for an hour and a fucking half! We're talking about wet and raunchy fun in the sun, where some of Hungary's finest babes get some serious pussy annihilation by a few lucky-as-fuck dudes by the pool who penetrate the babes mercilessly for 90 full minutes, one huge thrusting and gyrating mob of sex, covered in water, sweat, cunt juice and, eventually, load after load of hot gooey splooge.