Grannies

689 MB
Upon the return from promenade, the teacher of home, want to fuck some hot cunt!


481 MB
Barbara est une vieille peau de 50 balais bien sonnés. Seule chez elle sur son canapé, elle se gode à s'en déchirer la moule. Après avoir joui comme une folle, elle vous prend à témoin et vous raconte ses folles aventures sexuelles. Celle du jour où elle se fit déchirer le fion par un mâle viril ou cette lesbienne qu'elle n'eut pas de mal à convertir aux godes vibrants.Chloe, cette vielle gourmande se tape 2 mecs et s'étale leur foutre sur la gueule. Hecate, encore une autre belle garce nous montre qu'elle est experte dans le remplissage de trous. Avec son gode d'abord, avec deux pines ensuite. Cette vielle peau n'est jamais rassasiée. Ni elle, ni les autres vieilles cochonnes qui ont des rides partout sauf au cul.


646 MB
These women stay in shape despite their age. They will fuck and fuck until they drop.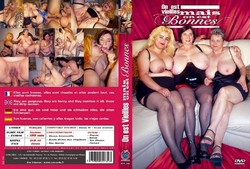 694 MB
Plus que jamais l'on se dit que c'est dans les vieux pots qu'on fait la meilleure soupe ! Agées de 40 à 55 ans, ces joyeuses coquines sont très demandeuses de sexe et le prouvent.. A noter : baise en trio, lesbianisme, éjacs, et même doubles-pénétrations !!