Mature

241 MB
Some people say Bisexuals are hedonist, greedy bastards that want it all! But Carl Hubay Jr., John and Tinker seem to think otherwise and I can't say I disagree! Being bi means you get the best of both worlds…a little pussy with a little dick on the side and everybody is happy. By the end of this one you'll probably feel the same!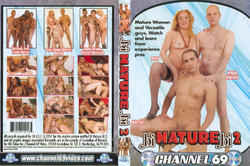 1.03 GB
These horny guys and girls are ready for whatever you throw at them! These girls need dick, and the men do too! Cocks in pussies' asses, mouths shooting cum everywhere! This is place where you can be boyfriends and girlfriends! Watch these trios expand their horizons and find out why bi sex is the best sex around!

637 MB
Gruppo di amanti del sesso estremo con due belle fighe, devasta culo e cazzo di un incredibile depravato disposto a tutto pur di godere…

588 MB
Questo film è un documento davvoro unico. impossibile non vederlo. Tutto vero al 100%. Tante situazioni perverse e violente vi faranno sognare!!