News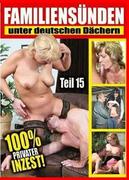 900 MB
Why look into the distance, when the good is so close? German amateurs give insights into their
horny family life and present themselves without inhibition in front of our camera. Fuck
that it is a true joy!

Alle Szenen im Film sind echte Privat-Videos, von Freunden des braunen Salons ausgesucht und zusammengestellt. Hier ist nichts professionell aufgearbeitet oder gestellt. Alle Akteure sind deutsch und rein privat gefilmt.