News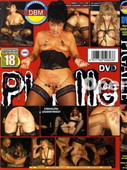 700 MB
These kittens are chained and ready for you to take control. Three scenes of gorgeous domination of other people make this movie a must see.
Tortures, spanking, fisting, hard sex and much more!


635 MB
All actions occur in the thrown warehouse. The guy in a rubber mask and glasses fucks two perverted girls.


829 MB
Italian amateur fucking. Amateur film shot by ordinary people and without a condom. Ordinary people but loves sex in all its forms, as few do. Each hole is exploited, the search for pleasure stronger and more complete.

1.25 GB
This German pair has a lot of fun with an assortment of toys, fun with clothespins and pantyhose. They are busy having so much fun that they invite a few friends over to play as well! All these toys add up to one big party at the end. All are welcome, sharing is encouraged and all things will be explored in this hot BDSM flick!


1.4 GB
Wow… Such wetness is unreal. Marin Minami is covered in every sort of bodily fluid you could possibly desire: saliva (and even tears) dripping down her face because she«s trying to swallow a 10 inch cock in one gulp, sweat and bodily moisture because she»s working so hard, and tons and tons of lubricant, sticky goo, and splashing pussy juice when they get her in the bondage chair. Not quite «extreme» bondage but still downright excellent.

396 MB
Mistress Silvia takes a guy home who she met at a bar. At the house she ties him down. She explains that he is now her slave and has to do whatever it is she tells him. When he refuses to wear women's underwear and makeup, he gets a whipping. Together with her friend they train him to become a bi-slut.

1.30 GB
Mistress Alexis is back. Mistress Alexis has to teach Slave Marco a lesson! She's caught him fucking her brother and now it's time to teach him who's really the boss! First he worships her long legs and high heels while receiving a caning with some verbal humiliation before he is bound in a 69 and introduced to the cock he'll be sucking today.

694 MB
Mistress Tangent is furious when he catches Slave Spartacus in her office, obviously up to no good. So she decides to teach him a lesson and teach him who's really the boss! She humiliates him by making him undress to reveal his silky stockings. She asks him "What the Fuck" he was thinking jerking off with her shoes when he was supposed to be doing chores for her. She chastises him and has him lay down on the floor at her feet for foot domination. Next, she tramples him, makes him sniff and suck her toes before indulging in her CBT fetish!

697 MB
Super turn-on Nancy with her incredible body and face and an ass to die for, faces black and proud Lexi, who has lots of attitude. It's all here as the fight unfolds–painful full nelsons, body-scissors, tit mauling, hair pulling, long, lingering schoolboy pins, suffocating breast smothers and even a super double body-scissors. Finally one fighter proves superior and what occurs is domination and facesitting at its very best. The beaten warrior cries, begs and pleads for release, but the onslaught continues and the domination is both sexy and fearsome, as the victor is now turned on by her own power. The victor's triumph is punctuated by some of the most punishing, sexy, and awesome facesitting ever and you'll see till the ending.

277 MB
Do what you will to Japanese girls, they can take it. This pregnant female is all tied up with her breasts and pussy sticking out for your pleasure. What would you do with her? This man decided after tying her up that she needed to be suspended and have hot wax dripped on her. Are there any better ideas?

1.24 GB
These mean girls love a power struggle that leads to them getting their hands dirty with a good, long Power Stroke! They don't tip-toe around the situation either! These bossy babes know what they want, how they want it; and will let nothing stand in the way of them cumming to grips with the situation! CBT, humiliation, and ruined orgasms are just some of the kinky tactics that these hand job honies use to get these poor saps to spew their sap in five cock pulsing scenes!