News

886 MB
100% taboo, unbearable sexual recognition terrible suffering … Demonic heavy blow on the shortcomings in this unprecedented and uncompromising film, quietly break all taboos.


1.1 GB
Donald Gomez dirige une affaire très juteuse. Il met en relation des hommes fortunés avec des jeunes filles vénales qui doivent se plier à toutes les envies du client, comme se transformer en geisha ou charmer le serpent du mystérieux Cheik Al Kabir… L'épouse de Donald, Alessandra, va découvrir ses manigances et lui faire payer.


1 GB
Le petit personnel a la dent très dure. Et si les femmes de chambres avaient raison ? Et si leurs riches employeurs étaient les plus infidèles qui soient, adeptes de partouzes, ou encore s'ils tenaient les rênes d'une cruelle mafia, obligeant les victimes de leur chantage à se soumettre à leurs désirs… Qu'importe ! Bianca, la bonne, va se venger et inverser la règle du jeu.


696 MB
Bienvenue dans ce club de gym très spécial ! Assistez à d'étranges séances de sport, découvrez des échauffement torrides, détendez-vous dans le jacuzzi voué au plaisir, prenez votre douche avec une nymphomane délurée.

1.61 GB
On ne peut plus se fier à son voisinage et toutes ces braves femmes au foyer semblent être des videuses de couilles professionnelles ! En effet, ces chaudasses n'ont pas le temps de s'ennuyer avec tous les pervers qui prennent un plaisir de dingue à les prendre par derrière !! Une MILF très excitée, ça se gère par une bonne sodo évidemment ! Alors qui veut se farcir le cul de sa voisine ?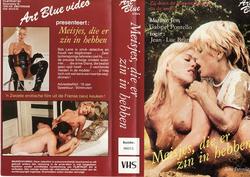 611 MB
Starring: Diane Suresne, Dominique Saint Claire, Marianne Aubert, Marilyn Jess, Yves Callas, Jean Caumont, Gabriel Pontello, Andre Kay, Jacky Jack, Christophe Clark

1.27 GB
Dites donc mesdames, vous avez l'air d'avoir du bon matos sous votre jupe. Ça tombe bien, parce que des grosses bites de trans il va en falloir beaucoup pour combler l'anus tout dilaté de Max.


1.16 GB
Dévouées et prêtes à tout, ces infirmières font davantage que soigner les blessés : elles assouvissent les désirs sexuels des soldats dans un film d'une intensité rare.


701 MB
Tout le monde vient au Lupanar. Un catcheur en fin de course, une femme pour assouvir les fantasmes de son mari pervers, une mére compréhensive, des nymphos pas jalouses… Les corps se croisent, s'entremêlent, s'entrechoquent… dans un film 100% hard sexe.