News

1 GB
Elles regardent leurs pieds, elles ont presque honte d'être là mais dès qu'on leur met une bite entre les mains, elles se transforment en furie sexuelle. Ces 3 petites mignonnes passent à la casserole et confirment le dicton : Méfiez-vous de l'eau qui dort.


646 MB
These women stay in shape despite their age. They will fuck and fuck until they drop.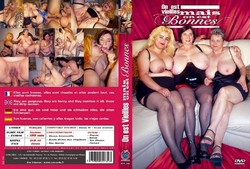 694 MB
Plus que jamais l'on se dit que c'est dans les vieux pots qu'on fait la meilleure soupe ! Agées de 40 à 55 ans, ces joyeuses coquines sont très demandeuses de sexe et le prouvent.. A noter : baise en trio, lesbianisme, éjacs, et même doubles-pénétrations !!


380 MB
For fans of French MILFs. Studs regale and fuck these mothers liek crazy!


700 MB
Elles n'ont plus 18 ans mais elles sont bonnes. Il suffit de les voir avaler ou s'empaler sur les sexes pour s'apercevoir qu'elles sont encore bien vertes et qu'elles peuvent en remontrer à beaucoup plus jeunes qu'elles.


699 MB
Cet été Max Casanova a posé ses valises au camp naturiste du cap d'Agde. Il avait décidé d'y caster des couples libertins et des femmes seules qui accepteraient de passer devant sa caméra.


1.6 GB
Pas vraiment satisfaite par la taille de la bite de son mari, Emily aimerait exceptionnellement se taper une grosse queue. Amel, sa meilleure amie, lui propose de lui prêter son plan cul, un mec particulièrement bien membré. Le mari d'Emily accepte que sa femme prenne cet énorme sexe, mais il veut quelque chose en échange…

1.3 GB
Quand Papa a la bite molle, plus personne ne rigole ! Rien ne va plus dans la famille Bertier. Suite a des problemes d'erection, les parents d'Alix ne baisent plus et l'ambiance dans le foyer est deletere mais la jeune femme va tout faire pour retablir la situation. Amour, tendresse et sodomie enchanteront cette parodie.