News

691 MB
Watch as horny guys fuck these pregnant girls and the girls suck their cocks 'til they get that precious load of man juice! And when they're done, they still need some pussy plowin'! All of those hormones culminate into this one moment when they fuck the shit out of these guys! They don't know what they got themselves into other than some DAMN GOOD pussy! And they even lactate! Milk and cookies for whoever finishes first!


1.18 GB
Highlights… Scented Kisses has monster booty! Weed makes her clap da booty that set off tremors from here to San Andreas!!! Light N lovely Farah Foxx got maaaad rolls for days. Horny dawg sticks his whole face deep in her ass crack before getting her big butternut surprise!!!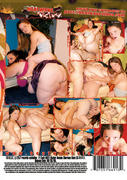 798 MB
Everyone needs a little helper. See this plus sized woman get her pussy pounded along with her little helper who is there to assist in the debauchery. Dayhsha is a strawberry blonde midget with a big appetite for freaky sex!

435 MB
They may be a little old, but they still have a sexual appetite that would rival that of a horny 18 year old! It's nice to see that age hasn't diminished the sex drive on these horny older ladies! Nasty grannies that want it all ways! I was just watching my grandma while she was fucking and sucking some guy and I suddenly realized "Hey, My Grandma Is A Whore"!