News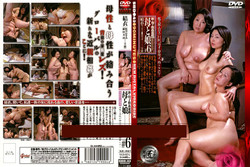 688 MB
Mitsu Kinuta, Kasumi Fubuki, Misa Yui… These MILFs aren't typically known for lesbian release, which is so awesome. Young lesbian lovers are excellent, but so are dried old babes who still love licking the kitten like they were new to the sex game. Everything you would expect from a lesbian release is here in perfect style and form; group sex, exhibitionist fun, pussy licking, and pussy pleasing.
1.4 GB

2.4 GB
This crazy model has something of a magical pussy. It squirts, drips, and oozes from start to finish in this release. Hard to believe such a beautiful woman possesses such a wondrous pussy like this; seems to me like a disproportionate distribution of sexual wealth. This isn't all pussy though as there's a great deal of cum flying around the place including the first scene where a couple guys aggressively run up to her out of nowhere and jizz right on her smiling face. Amazing release and a ton of hardcore fun.

1.3 GB
An ass that big looks like you split a watermelon in half, and ended up with two whole watermelons. The magic of film photography makes it look bigger than it really is, but that's totally fine. Because this crazy babe is totally fine as hell. Lots of excellent hardcore sex which put the star in a number of compromising positions, all of which are exciting and fun (despite a few 'traditional' scenes).

1.2 GB
Saki Aikawa is a salty brine of MILF love in a world of saccharin sweet idol sex. She's full, mature, and ready to get hers before she gives anyone an inch. Stuffed deep into nylons, panties, stockings, and high heels, she gives everyone watching a stiff break. If she's playing with herself or making a guy play with her goods, she's a bomb to watch and drips solid gold juice from her luscious wet pussy.