News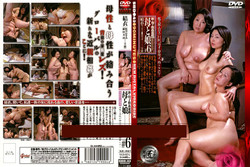 688 MB
Mitsu Kinuta, Kasumi Fubuki, Misa Yui… These MILFs aren't typically known for lesbian release, which is so awesome. Young lesbian lovers are excellent, but so are dried old babes who still love licking the kitten like they were new to the sex game. Everything you would expect from a lesbian release is here in perfect style and form; group sex, exhibitionist fun, pussy licking, and pussy pleasing.

1 GB
She starts by cooking some nicely sliced pork belly and you know she's a total porker. Not even talking about her weight, I'm talking about the need to dig in the moment you start getting a little hungry. She may not be the most attractive but she's stacked in all the right ways and enjoys a bit of young cock all over (and inside) her body.

1.3 GB
An ass that big looks like you split a watermelon in half, and ended up with two whole watermelons. The magic of film photography makes it look bigger than it really is, but that's totally fine. Because this crazy babe is totally fine as hell. Lots of excellent hardcore sex which put the star in a number of compromising positions, all of which are exciting and fun (despite a few 'traditional' scenes).

1.2 GB
Saki Aikawa is a salty brine of MILF love in a world of saccharin sweet idol sex. She's full, mature, and ready to get hers before she gives anyone an inch. Stuffed deep into nylons, panties, stockings, and high heels, she gives everyone watching a stiff break. If she's playing with herself or making a guy play with her goods, she's a bomb to watch and drips solid gold juice from her luscious wet pussy.

1.7 GB
This is a lewd ass and you certainly will be fiending for a piece of that after this release. There's something so wonderful about an older woman who's taken care of her ass- because her ass can take care of you! Great hardcore sex from a cuckold MILF with an ass that's certainly noteworthy. She also has a great pair of stems on her on the way up there.

1.2 GB
Why is it that the tall bitches love getting surprises in their back doors? Never the skinny little things that enjoy it… I'm not saying the petite ones don't get it to, but none of them kick and squeal with pleasure when you fill up their exit chute with sweet peaches and cream. Excellent anal sex from a housewife; loving the mixing of genres like mom mixes the soy and tamago.