News

1.35 GB
It's taboo, it's frowned upon, it's forbidden and a very naughty but step relations are allowed to fuck! So embrace your (step) family and hope that no one finds out. Simple as that. These studs and stunners did and we got it all on film. Watch step-daughters and step-dads go where they knew they shouldn't. See step-siblings finally fulfill their fantasies of being together. They might get divorced but they won't be going to jail!

1.22 GB
Getting an F can sometimes be a good thing, especially if you really, really like a teacher – and she likes you back. PureXXXfilms presents a showcase of the best British Milfs in porn. Watch as these naughty Teachers give their students a lesson in cock-sucking and hardcore fucking. Detentions have never been so good. Starring: Tara Blows, Scarlett March, Franki Ryder, Eva May, and Lara Latex.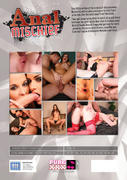 1.65 GB
This movie is about the A class of Anal Pounding. We love to watch every inch go in to that tight asshole. See the juice seep from inside. Then get some nasty bitch to lick it all up and share between her girlfriends. Now that is fucking sexy! Watch Claudia Rossi and Poppy Morgan beg for more!