News

699 MB
Genre stalwart Jamie Gillis heads the cast as a man involved in a business deal with some very shady mafia types who will not hesitate at threatening or hurting both his family and friends to assure his full cooperation. He enters a seemingly disused building where he is guided through a number of color-coded rooms, witnessing some pretty strange goings-on. Some of these things are decidedly sexual in nature yet devoid of love or any recognizable human emotion.


700 MB
Enter here, if you dare, a dimension of sensual extremes and primeval desires. Much of this film will shock you . . . most of it will surprise you . . . all of it will excite you! A TRUE EROTIC MASTERPIECE.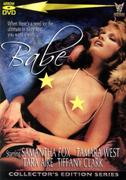 831 MB
A classic sexvid, this feature stars Bobbi Jackson (Tara Aire) as Babe, a top-flight New York model who has been single-handedly keeping Samantha Fox's modeling agency in business. Bobbi likes to play the field, dabbling in some fun with lots of men but never quite finding one to settle down with.


651 MB
Dinner with Samantha" starring Samantha Fox, is more than a simple meal. It is an epicurean delight. Samantha's co-star, Bobby Astyr, plays her ever loving husband. Not only is he after her soft and sensuous body; but he is also after her immense amount of money. Samantha is the object of everyone's intentions. This erotic adventure takes you through an array of events that leads to an unusual twist with an unexpected ending.