News

700 MB
Enter here, if you dare, a dimension of sensual extremes and primeval desires. Much of this film will shock you . . . most of it will surprise you . . . all of it will excite you! A TRUE EROTIC MASTERPIECE.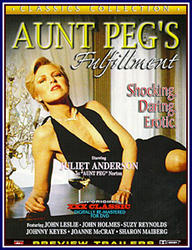 735 MB
Peg Norton, a sexy, high powered Hollywood producer, invites her niece Sheila to visit her this summer, and learn all about "inside Hollywood", and what a lesson! It is a searing, shattering expose of the elegant seaminess of a corrupt film world. Every sexual escapade imaginable to the human (and some say, inhuman) mind is displayed to the wide-eyed young and incredibly desirable teenager. From poolside orgies to the masterful seduction by a famed Italian film director, Shiela receives an erotic tour-de-erotique never experienced by any of her Midwestern classmates, nor, indeed, by most people anywhere. Aunt Peg, an unforgettable erotic experience.


848 MB
Serena was a real sexual athlete. No messin' around when it came to getting down and dirty! She devoured men and women alike with equal enthusiasm, and she brought legendary pleasure when she did her thing!

600 MB