News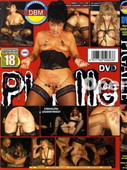 700 MB
These kittens are chained and ready for you to take control. Three scenes of gorgeous domination of other people make this movie a must see.
Tortures, spanking, fisting, hard sex and much more!


696 MB
On a walk through te mountain forest Master Domus disciplines Heydi by tough tortures: defencesell lashed at a tree she is whipped out, waxed and her pussy brutally fucked. And for Heydis girlfriend things don'r run better. Two macho men show the girlies how a supple mare has to work!

506 MB