Amateur

903 MB
They tell you never to pick up hitchhikers; you never know if one is going to kill you. But if you saw these sexy ladies walking the street with a thumb out, you'd pick them up too! Watch as these sexy hitchhikers find ways to pay for the ride that they're receiving! Aren't you glad you stopped now!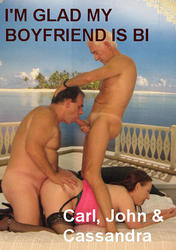 184 MB
Carl seduces John, and is busy fucking him when his new girlfriend walks in and catches them. Instead of being upset, she's happy that John's playing with Carl, because it's another dick that can fuck her tight pussy and ass. Great Oral Cumshots, anal sex and Cassandra's squirting pussy.

1.30 GB
Mistress Alexis is back. Mistress Alexis has to teach Slave Marco a lesson! She's caught him fucking her brother and now it's time to teach him who's really the boss! First he worships her long legs and high heels while receiving a caning with some verbal humiliation before he is bound in a 69 and introduced to the cock he'll be sucking today.

700 MB
New German porn saga "Der Fotzen Feger Anrempeln Anbaggern Abschleppen Abficken" brings you a lots of european newer seen before amateurs!!!

694 MB
Friseusen aus Deutschland bei der Arbeit. Zuerst muss der Kunde die Fotze spülen. Danach wäscht die Friseurin mit dem Mund den Schwanz des Kunden. Zum Schluss bekommt die Friseurin die volle Spülung in den Mund.


612 MB
A catfight erupts between a gorgeous blonde and an equally gorgeous dark haired beauty. It is tooth and claw from the very beginning before settling down to several exchanges of scissors. Grapevines follow; clothes are ripped off, leaving them both all but nude. More scissor holds follow before our blonde tortures her foe with a back bending full nelson while sitting in the small of her back. Now down to total nudity the fight ends with a grapevine and breast smother combo followed by a long, sensuous face sitting and vulnerable crotch attack.

694 MB
Mistress Tangent is furious when he catches Slave Spartacus in her office, obviously up to no good. So she decides to teach him a lesson and teach him who's really the boss! She humiliates him by making him undress to reveal his silky stockings. She asks him "What the Fuck" he was thinking jerking off with her shoes when he was supposed to be doing chores for her. She chastises him and has him lay down on the floor at her feet for foot domination. Next, she tramples him, makes him sniff and suck her toes before indulging in her CBT fetish!