Amateur

612 MB
A catfight erupts between a gorgeous blonde and an equally gorgeous dark haired beauty. It is tooth and claw from the very beginning before settling down to several exchanges of scissors. Grapevines follow; clothes are ripped off, leaving them both all but nude. More scissor holds follow before our blonde tortures her foe with a back bending full nelson while sitting in the small of her back. Now down to total nudity the fight ends with a grapevine and breast smother combo followed by a long, sensuous face sitting and vulnerable crotch attack.

694 MB
Mistress Tangent is furious when he catches Slave Spartacus in her office, obviously up to no good. So she decides to teach him a lesson and teach him who's really the boss! She humiliates him by making him undress to reveal his silky stockings. She asks him "What the Fuck" he was thinking jerking off with her shoes when he was supposed to be doing chores for her. She chastises him and has him lay down on the floor at her feet for foot domination. Next, she tramples him, makes him sniff and suck her toes before indulging in her CBT fetish!

946 MB
A voi il desiderio perverso di Francesca. Lei ha sempre voluto farsi scopare da un trans!

1.39 GB
She has out of this world fire colored red hair and enormously perfect tits that don't belong on a twenty year old. I admit to lusting after her and spending lots of time in my room relieving my sexual angst over her with usually my right hand. I fall asleep at night hoping to have some kind of realistic dream of the many things I would like to do with her or have her do to me. It's like her every move oozes sex and it drives me crazy with desire for her. One night I had just fallen into deep sleep when she appeared in my room in a skin tight space looking outfit advising me she was there to collect my sperm to populate her planet with man slaves.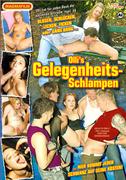 1.36 GB
Olli hat für jeden Männerwunsch die passende Schnalle parat! Die einen kommen mal eben zum Blasen vorbei und die anderen, um sich hart durchficken zu lassen. Und schliesslich gibt es auch eine, die bereit dazu ist, sich von einer ganzen Meute gieriger Kerle vollrotzen zu lassen.