Classic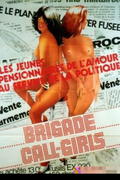 438 MB
Here is yet another amazing find from the seemingly inexhaustible stream of quality adult 70′s films. This is a French language film called 'Brigade Call-Girls', that seems like – although it clearly isn't – to have been made with the porn scenes as an afterthought. In a sense, the porn adds nothing at all to the film, in fact it seems to detract from a rather cool tale involving espionage, a deranged razor killer and the eponymous call-girls. There is maybe 20 percent adult material, but this one is interesting for it's quality cinematography, attention to story and large budget. Almost a giallo, but not quite, a great deal of the conventions of that genre, but without taking it all the way to the end. Overall, highly recommended, and I hope someone makes subs for this one because I have no idea why it's so obscure! It's a fuckin' travesty.

258 MB
Actress: France Lomay, Liliane Lemieuvre, Marie-Claude Moreau
Actors: Alban Ceray, Richard Lemieuvre, Dominique Aveline, Cyril Val, Charlie Schreiner

331 MB
This raunchy lustfest was first released, but it still packs a passionate punch today. The story — such as it is — concerns a bunch of black pimps and their various stables. One after another we watch as the pimps put their charges through their paces in a series of blistering boffs. The cast features some of the most exciting performers of the decade, women who may not have been among the top-flight starlets but who managed to make their mark on the business through sheer sexual power.

383 MB
DBM – Downtown 08 – DT3008. Box illustrations show explicit sex, three padlocks closing pierced labia, and other extreme people and acts.

700 MB
Una storia d'amore e di peccato, che mischia politica e sesso…
incredibilimente eccitante…

1.16 GB
Starring:Angloma, Brigitte Olier, Christoph Clark, Francesco Malcolm, Jocelyn, Jonathan Houghton, Lady Amour, Richard Langin, Rossella Gracen, Sarah Young, Stefania Sartori, Thomas Spencer