Group sex

700 MB
Film-Studentin Lucia hängt mit dem Mund am Ro*r wie eine Klette und läßt sich von Bimbo Theo die Rosette aufbohren, daß es eine Pracht ist. Janet und Monika, verführen ihren Zahnartzt nach allen Regeln der Kunst. ge*l, wie Janet den st**fen Riemen aus Monikas ar***lo*h zieht und sich den heissen sa*t in den Mund spr**zen läßt. Nonne Angelika ist ihrer Fleischeslust hemmungslos erlegen und läßt sich hinter "heiligen" Klostermauern die Unschuld rauben. Die blonde Musik-Studentin Sabrina hat herrliche, große, weiche Natur-Brüste und läßt sich von Tanz-Teenie Anna genüßlich die Weichteile schlec**n. Viel Spaß!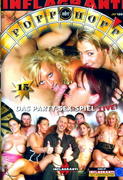 947 MB
Check out the latest from Inflagranti Film Berlin, Popp Oder Hopp 15: Das Party-Sex-Spiel Live, featuring the hottest women in action from Germany!
970 MB
Ancora un altro grande inedito che vede protagonista l'indimenticabile Moana Pozzi. Un cast d'eccezione per un nuovo grande miracolo firmato FM. Buona visione a tutti i nostalgici e non…


886 MB
100% taboo, unbearable sexual recognition terrible suffering … Demonic heavy blow on the shortcomings in this unprecedented and uncompromising film, quietly break all taboos.