Pissing

696 MB
The slave looks eagerly into the air vents of his mistress. The first drop can be seen, then the lock will open completely and the golden shower poured over his body … with legs spread wide she lies on the sofa. A fist pushes slowly into her cunt. More and more is her pussy stretched … Harry S. Morgan with a report about people and their most perverted desires. Chasms are opening up ….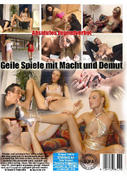 1.36 GB
Du wirst mein Lecksklave und Spucknapf sein. Geile Spiele mit Macht und Demut.

508 MB
Ein feuerwerk der erotic.Das Beste,das Harteste und Aubergewohnlichste aus.DBM-Filmen.Eine geballte Ladung harter Pornographie.Nur fur starke nerven!

383 MB
DBM – Downtown 08 – DT3008. Box illustrations show explicit sex, three padlocks closing pierced labia, and other extreme people and acts.

748 MB
Che sorprese riserva il parco della lussuria?