News

829 MB
Italian amateur fucking. Amateur film shot by ordinary people and without a condom. Ordinary people but loves sex in all its forms, as few do. Each hole is exploited, the search for pleasure stronger and more complete.

777 MB
Claudia (Maria Bellucci) and Melissa (Dora Venter) are the main figures in this entangled plot of industrial spying, where everyone only cares his needs, with great disadvantage of his collaborators.
Sex is one the best weapon to get the trust of someone , as Lena (Jessica Fiorentino) and Sandra (Sandra Mark) know well, very easily spreading their thighs.
Attention, in a cunning world, you will always find someone more cunning than you!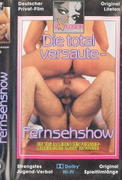 712 MB
Der Moderator und seine hübsche Assistentin proben schon einmak für ihre neue Fernseh-Show…