News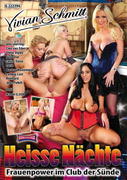 698 MB
Vivian und ihre Freundinnen haben von einem Club in Hamburg gehört. Dort werden Girls für das neue Showprogramm gesucht. Eine Chance, die sie sich nicht entgehen lassen wollen. So einfach, wie sie sich das vorgestellt haben, ist es jedoch nicht. Um den Chef des Etablissments von ihren Vorzügen zu überzeugen, ist ihre ganze Frauenpower gefragt.

1.36 GB
Diese sechs rattenscharfen Sekretaerinnen legen nicht nur beim Tippen und Kaffeekochen eine beeindruckende "Fingerfertigkeit" an den Tag, sondern auch beim Rumfingern am Zipfel des gestressten Chefs, um diesem ein wenig Entspannung zu goennen. Wenn das noch nicht reicht, muss das Ding wohl noch ausgiebig gelutscht und gevoegelt werden. "Selbstlos" stellen die Bueroluder ihrem Boss saemtliche Koerperoeffnungen zur Verfuegung. Mit weit gespreizten Schenkeln auf dem Schreibtisch liegend strecken sie ihm einladend die feuchten Loecher entgegen …

1.1 GB
Superstar lesbian director Nikki Hearts presents a real erotic story of four hotties seeking one more roommate – gotta have a job and gotta be cute! Don't mind the house smelling like pussy, you'll get used to it! Let's get comfortable… lezzz get sexual!