Big Tits

2.8 GB
Not one but two amazing BBW babes who are ready to slap-and-tickle your meat in bombastic style.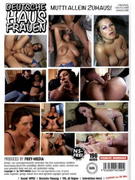 700 MB
Die Muttis sind grad allein zu Hause und warten auf dich und deinen harten Riemen.

700 MB
These German sluts got humungous juggs on them. Each whore comes closer and closer to self-administering a black eye, with the sway of their enormous TITS! They get Bratwurst stuffed inside their asses, pussies and mouths and get some strudel cream all over their faces. Cum see it to believe it!


1.9 GB
Sora Nanami plays the part of the BBW big breasted babe who uses her breasts like punching bags to literally slap the cum from a stiff cock. She uses those things like defibrillator paddles, shocking the life and blood back into every man they touch. It's amazing to see someone so skilled in the various uses of their own sex organs; you'd think she took classes.