Fetish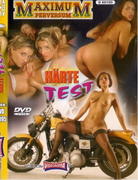 991 MB
"Eine Pizza Diavolo – aber extra scharf bitte" – der Pizza-Service arbeitet prompt, doch die Pizza wird an die falsche Adresse geliefert. Dort steht die Fahrerin plötzlich selbst auf dem Speiseplan und wird – mit Klammern gespiekt – gleich mit vernascht. Weitere Beilagen wie Sekt ab Quelle und vor allem strenge Kost runden das Menü ab. Fünf Sterne für den Maître Harry S. Morgan.


1.1 GB
Another Mad Factory release… which spells good news in my book. I love seeing new imprints like this, especially when they bring quality hardcore sex which includes fierce bondage, matter-of-fact molestation, and sporting lesbian action. Excellent all the way around; not all of the bondage is downright destructive this time but it's still top of the line.

1.2 GB
The Mad Factory releases continue with delightfully devilish style. So much pain and pleasure you would think you were both in heaven and hell at the same time. This one has a lot of the usual bondage you would expect (with plenty of hardcore sex straight up), and an over emphasis on vibrators and toys. Lots of buzzing, humming, and splashing bondage sex.

1.2 GB
Mad Factory, you went stupid crazy on this one. I don't know the imprint but I'll be damned if it wasn't a completely amazing and utterly convincing bondage piece. The ladies enjoyed every moment; it was me being tortured! Each babe was juicy to the core and I was even more pleasurably incensed by the fact the masters of bondage being both nondescript guys AND equally amazingly beautiful babes.

802 MB
It's a traditional Japanese bondage piece in the very core of the word.