News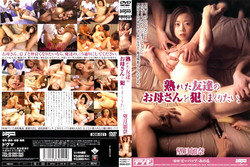 1.1 GB
Asian Kana Mochizuki is gangbanged by a group of horny Asian men. While taking a shower, men get into her bathroom and touched her. She then is taken to her living room where they continued to pound her tight pussy. See Kana Mochizuki get gang banged in her own apartment.

1.3 GB
Big tit Hitomi is one of Japan's JAV models that posses a pair of huge breasts. Aside from her big tits being fondled and abused, she acquires a mask of warm cum from a groupf of horny men whom fucked her at least once in this movie before cumming on her face.

1.2 GB
She's on the short end of the BBW spectrum but damn if she doesn't do both sides of the line right. She likes to play office lady but her real occupation is showing off. Great masturbation complete with solid tease routines followed by excellent cum play.

891 MB
Take a few seconds to look at the cover of this movie, is it just me or Akane Matsuda's tits are as big as her head? Watch her huge boobs fondled and her tight pussy fucked.

1.68 GB
Among the directors of the World biggest porn industry, the Joe D'Amato is distinguished by one unique and unmistakeable style. The Fuhrer's Dolls, a sensual and exciting movie that is interpreted by Erika the beautiful, Explores the cruelty of Nazism, Particularly with young, unprotected girls who undergo all kind of humiliations at hands of the tyrannical leaders in charge.


1 GB
Chubby but sexy Yuna Kawase models her full figure and shows off her big tits and her small waist. Though this movie is softcore, she nearly shows her goods and its enough to make you imagine her nice curves.

2.2 GB
Our Girls show you what all can happen behind these walls. Watch as they have hot cum squirted into their eager mouths, their tits covered with man-cream and these sluts can not wait to get more.

0.98 GB
Le nostre amichette della seventeen sono puttane di loro, ma con una bella scuola lo si diventa acor di più… quindi tutti a scuola con loro nel Liceo delle zoccole.