News

643 MB
"Sonny Boy" Richardson (El-Ay) returns from Vietnam where he has spent the last ten years as a missing-in-action statistic. He carries a life-size inflatible woman that kept him company during his imprisonment, but he soon drops that to engage in incestuous acts with his sisters and mother who are also engaging in sex with everyone else the meet.


499 MB
A very rare Vanessas Del Rio and Gloria Leonard movie. Vanessa plays the role of Norma,
while Gloria plays the role of Sharon.


834 MB
Vanessa Del Rio is a garment district fashionist with a cadre of perverted female sidekicks. Locker room tit flashing initiates a three way lesbian encounter featuring Vanessa and Annie Sprinkle. Big titted Honey Stevens parades herself in a red leather corset armed with a red cat o' nine tails. She humiliates her male slave with verbal abuse and whipping, all leading to an explosive golden shower. Annie runway models leather and lace & receives a fisting. The intense nipple torture of a busty blonde tied to an X-cross is straight out of the pages of Fetish Times.


589 MB
This steamy sexvid from 1985 pulls back the curtain on the sordid shenanigans that thrive in and around Beverly Hills. Harry Reems stars as a businessman who's trying to seal a deal with Utah financier Billy Dee. Harry invites him over to his palatial estate, where Billy feasts his eyes on Harry's luscious young daughter. He eventually gets his hands on her, but not before enjoying some heated moments with both of Harry's lithesome maids.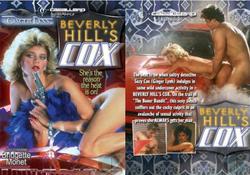 672 MB
The heat is on when sultry detective Suzy Cox (Ginger Lynn) indulges in some undercover activity in Beverly Hill's Cox. On the trail of 'The boner Bandit' this sexy sleuth sniffers out the cocky culprit in an avalanche of sexual activity that proves she always gets her man!


700 MB
Most of the time therefore, porn spinoffs or parodies fail to measure up to their mainstream counterparts. There are exceptions though. Henri Pachard's magnificent "Between Lovers" is an example of one that worked, indeed worked so well as to actually surpass the mainstream original.


750 MB
Travel back in history to the American Revolution, where the British are coming (in more ways than one); to the civil war, as a Yankee soldier finds himself a little "Southern Comfort" and to the swinging fifties, where a fast-talking greaser has a sure-fire plan to get his girl to go all the way.