News

1.07 GB
Here are some cute chubby babes that every horny man secretly craves. With pretty faces and all the right curves, these hot sexy babes crave hard cock and hot jizz!


700 MB
Ein Spiel für die ganze Familie… Alle haben einander so lieb!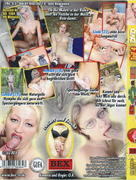 1.06 GB
These German sluts were destined to be BAD GIRLS!!! They are excited to prove exactly how BAD they are by showing the world that they are sluts on film!! They were anxious to tear their clothes off and have hot, steamy, and hardcore sex in this video for you to enjoy. They're bad, cum see exactly how BAD they are!!

1.06 GB
Diese Asiatischen Weiber wollen mal so richtig ihre Arsch-Fotze gestopft bekommen und danach den Saft ins Gesicht gespritzt bekommen.


700 MB
Jean setzt seinen schmutzigen Plan, wie er seine dritte Ehefrau los wird, in die Tat um: Er schenkt ihr zum siebten Hochzeitstag einen heissen Dreier mit einem Callboy und macht "Beweisfotos". Mit diesen geht er zu den frisch gebackenen Anwaeltinnen Helen und Sarah, wo er behauptet, ein Privatdetektiv habe die Bilder von seiner Frau und deren Liebhaber gemacht. So muessen sich die beiden huebschen Anwaeltinnen nicht nur um ihren ersten Fall kuemmern, sondern auch noch mit ihren schwanzgierigen Freundinnen die Eroeffnung ihrer Kanzlei feiern, die natuerlich in einer versauten Orgie sondergleichen endet …


933 MB
Magnifiques amatrices débutantes soumises à la bite, pipe jusqu'au fond de la gorge, bombes au gros seins, chattes rasées, grosses vicieuses
INCROYABLES !!! Les véritables bombes "à forte poitrine" viennent se faire éclater par de véritables étalons au sexe énorme et gonflé à mort par l'excitation de défoncer ces jeunes amatrices aux gros nichons, taillées pour la jouissance sous toute ses formes…
Assistez à leurs écartèlements ou encore à l'explosion de leurs bouches à pipes ou aux pistonnages sans pitié de leurs chattes encore imberbes…


775 MB
Check out the latest from Z-Faktor the 38th installment of the Abnorm series! Featuring the hottest action from Germany!