Classic

700 MB
Performers: Veronica Hart, Sharon Kane, Joanna Storm, Kelly Nichols, Gail Sterling,
Jade East, Michael Knight, Dana Ferrara, Frederick Foster, John Black, Ron Jeremy,
Carol Tate, Victoria Harper, Billy Goldman, Ashley Moore, Cheri Champagne, George Payne,
Dick Missing, Michael Bruce, Dave Ruby, Dan Stephens, T.J. Carson, Joe Santini


700 MB
Performers: Kay Parker, Abigail Clayton, John Seeman, Robert Girard,
Pharey I. Burd, Rudy Graham


1988 MB
Performers: Kascha, Francois Papillon, Stephanie Rage, Randy Spears,
Lynn Lemay, Randy West, Ariel Knight, Robert Bullock


669 MB
Performers: Dianne Galke, David Book, Justina Lynn, Turk Lyon,
Toni Scott, John Seeman, Joan Devlon


746 MB
Performers: Gina Carrera, Brandy McDaniels, Heather Wayne,
Cynthia Brooks, Jim Andrews, Billy Joe Fox, Peter North, David Sanders


652 MB
Performers: Nina Hartley, Shanna McCullough, Nick Random, Blondie, Krista Lane, Tom Byron,
Jessica Wylde, Steve Wayne, Mike Horner, Tony Montana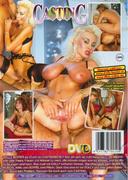 745 MB
Classic sex story from Dolly Buster.
Dolly Buster as a boss in the casting office. Who does not want to apply there? Whether men solo or pairs, women and men in twos, everything must show what they can do and the requirements are high. One must be able to keep up with Dolly, stability with the oral, pussy, anal and double penetration. However, this all with Dolly and her cool secretary is no problem. Come, nevertheless, also to the casting!


1.68 GB
Among the directors of the World biggest porn industry, the Joe D'Amato is distinguished by one unique and unmistakeable style. The Fuhrer's Dolls, a sensual and exciting movie that is interpreted by Erika the beautiful, Explores the cruelty of Nazism, Particularly with young, unprotected girls who undergo all kind of humiliations at hands of the tyrannical leaders in charge.