Fetish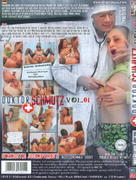 695 MB
Sickest perversions and unbelievable sexual treatments are the most know therapies of the famous Dr. Schmutz! He heals his female patients in his own unconventional way: bottoms up, show what you've got, spread your pink snatch and bend over! He fucks the brain out of any slut that is stupid enough to ask for help from Dr. Schmutz.


1 GB
She wears the collar like it was an everyday piece of her wardrobe… and it might as well be. Domination can be one of two things 1) willing or 2) unwilling. This amazingly salacious babe is number one all the way. She loves the chains of bondage and loves the freshly milked cocks of it even more. Great hardcore sex with an amazingly beautiful babe that paces itself extremely well- starts normal and gets freaky as it ramps up.

2.6 GB
I remember part one because I learned a lot about how to perform… on myself I mean. Of course it's easier to perform when watching one of these great babes play with a few lucky guys cocks. What's cool about this part is that a lot of the ladies use more than just their hands. The first scene alone has a devil in red high heels walking all over the ass and balls of one guy before she works him into finishing.

1 GB
Baby Entertainment may very well be the best of the best when it comes to amazingly well shot and choreographed bondage hardcore sex. A beautiful, sensual, sensitive babe at the forefront but I always love how some of her 'abusers' are also hot women of varying age. Truly bondage is an all inclusive fascination and it's great to see this crazy action being worked on by other sensual ladies.