Fetish

310 MB
Why does a sexual encounter have to be between just a man and a woman? We're breaking the rules with this explosive masterpiece! These hard-bodied studs and horny babes are being greedy and want the best of both worlds! No hole is left untouched! Cum watch as these gorgeous gals and guys balling each other and build up to a climactic ending!

396 MB
Mistress Silvia takes a guy home who she met at a bar. At the house she ties him down. She explains that he is now her slave and has to do whatever it is she tells him. When he refuses to wear women's underwear and makeup, he gets a whipping. Together with her friend they train him to become a bi-slut.

1.30 GB
Mistress Alexis is back. Mistress Alexis has to teach Slave Marco a lesson! She's caught him fucking her brother and now it's time to teach him who's really the boss! First he worships her long legs and high heels while receiving a caning with some verbal humiliation before he is bound in a 69 and introduced to the cock he'll be sucking today.

766 MB
low Him And Then You Can Fuck Me Price you pay for a great lay. Blow Him And Then You Can Fuck Me movie Go ahead… it won't make you gay! Would you pay the ultimate price in order to fuck porn's hottest sex dolls? Blow Him And Then You Can Fuck Me adult DVD These guys figure that if the pussy is that hot they'll say "AHH" to cock! Filmed completely in Prague, the action is red hot and 100% extreme! Enjoy as our cockmasters "slob the knob" before piston pounding some of the Industry's finest sluts!

626 MB
Blow Bi Blow # 4 Girls will be girls and guys will be guys, but occasionally things get a little naughty and some guys prefer to DO guys! When that old curiosity gets the better of those guys and they begin to wonder what it's like to fondle and stroke a throbbing hard cock and then slide that stiff man meat into their waiting mouths… that's when the fun starts! Does that make them gay?

377 MB
A REFLECTION ON BISEXUAL NARCISSISM!A modern telling of a classic tale: Narcissus, with a bi subtext that`s as erotic as it is thought-provoking.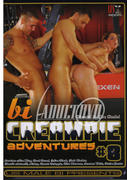 529 MB
Bi Creampie Adventures 8: These sexy sluts just love sex…and dick…any way they can get it… And when that includes a hot bi-sexual encounter…well it`s just that much more intense and satisfying! Watch these studs pound holes and unload their spew deep inside…filling up until it drips out

903 MB
Watch as these barebackin' bisexual ballers mix it up by raw fucking each other. Boy-boy, boy-girl, girl-girl, threesomes, you name it, this scorcher has something for everyone.

3.12 GB
What happened bihind closed doors stays behind closed doors, right? Job interviews and other such social functions where the pressure is on are fine opportunities to seduce applicants by showing them mouth-watering oversexed, beautiful women! But there's always a catch, and the catch in this case is the cock!

612 MB
A catfight erupts between a gorgeous blonde and an equally gorgeous dark haired beauty. It is tooth and claw from the very beginning before settling down to several exchanges of scissors. Grapevines follow; clothes are ripped off, leaving them both all but nude. More scissor holds follow before our blonde tortures her foe with a back bending full nelson while sitting in the small of her back. Now down to total nudity the fight ends with a grapevine and breast smother combo followed by a long, sensuous face sitting and vulnerable crotch attack.