Fetish

1.6 GB
Rope is serious bitness. This hardcore madam is also serious bitness. When you get them both together and rubbing against each other you get a raging fire that consumes all of your wildest desires. This is crazy and hardcore from the word go and it's a must watch for fans of bondage, domination, and always MILF hardcore sex.

2.5 GB
You must have a kind of hidden desire for something even worse than this if you're asking to be cast in the types of bondage and sadism seen here. And it makes sense when you look at this beautiful babe; she's got issues that can't be solved with a few tissues. She likes it as raw and painful as you're willing to make it and it's a joy to watch.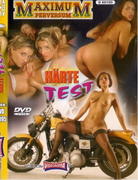 991 MB
"Eine Pizza Diavolo – aber extra scharf bitte" – der Pizza-Service arbeitet prompt, doch die Pizza wird an die falsche Adresse geliefert. Dort steht die Fahrerin plötzlich selbst auf dem Speiseplan und wird – mit Klammern gespiekt – gleich mit vernascht. Weitere Beilagen wie Sekt ab Quelle und vor allem strenge Kost runden das Menü ab. Fünf Sterne für den Maître Harry S. Morgan.


1.1 GB
Another Mad Factory release… which spells good news in my book. I love seeing new imprints like this, especially when they bring quality hardcore sex which includes fierce bondage, matter-of-fact molestation, and sporting lesbian action. Excellent all the way around; not all of the bondage is downright destructive this time but it's still top of the line.