Mature

1.85 GB
Eine Sammlung der besten Szenen aus dem Hause Videorama.

1.7 GB
Ms Julia Smith, interpretata dalla bellissima Sofia Gucci, sta per acquistare alcuni preziosissimi profumi da Mr. Dou, proprietario del laboratorio dove ha prodotto le rare essenze. Tutto sembra andare per il meglio ma al momento della consegna l'avaro Mr Cou cerca di fuggire portando con se la preziosa merce , assieme alla valigetta contenente i soldi ma … durante la fuga qualcosa non va secondo i piani e i profumi vengono smarriti. Inizia così un'avventura ricca di colpi di scena, tra sesso piccante ed elettrizzante..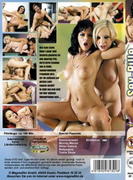 1.36 GB
Was kann einem Dauer-Looser wohl besseres passieren als eine neuartige Pille, durch deren Einnahme man zu einem unwiderstehlichen Frauenheld wird, der die schärfsten Luder magisch anzieht? Da denkt man noch nicht mal über mögliche Nebenwirkungen nach …


829 MB
Leihia and Stacie Starr are back for some more family fantasies!

3.24 GB
When life gets in the way, just remember….it's All In The Family. When a woman realizes that tutoring her stepson isn't enough motivation for him to pass his classes, she offers sex as the ultimate incentive. A young woman challenges her stepfather to fulfill her wildest fantasies by leaving him a series of provocative notes, each with their own illicit instructions. After her stepfather becomes frustrated that she's turned his man cave into a make-out location, a young woman comes up with a tempting solution that benefits everyone. A party-going college girl challenges her stepbrother to lead a more adventurous life, only to discover that he's more of a bad boy than she could have ever imagined.

2.90 GB
Elk label heeft zo zijn eigen sterren… De films waar zij in spelen, doen het altijd goed. Speciaal voor de fans heeft het label Muschi Movie deze diva's in een film samengebracht. Geniet van Dominika Diamond, Gabrielle Gucci, Mea Malone en alle andere hete Muschi chicks.

1.37 GB
Aletta und die anderen Mädels stehen auf Schwänze, am liebsten würden sie den ganzen Tag ficken.

2.04 GB
Original deutsche Produktion!