News

1.33 GB
World's collide in these tales of unspeakable, forbidden desires!

829 MB
Leihia and Stacie Starr are back for some more family fantasies!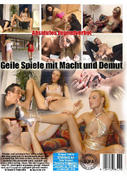 1.36 GB
Du wirst mein Lecksklave und Spucknapf sein. Geile Spiele mit Macht und Demut.

1.37 GB
Watch in here the hottest scenes from the serie "Teen Town". Young and wet girls masturbating, licking or fucking. That you shouldn't miss!

3.24 GB
When life gets in the way, just remember….it's All In The Family. When a woman realizes that tutoring her stepson isn't enough motivation for him to pass his classes, she offers sex as the ultimate incentive. A young woman challenges her stepfather to fulfill her wildest fantasies by leaving him a series of provocative notes, each with their own illicit instructions. After her stepfather becomes frustrated that she's turned his man cave into a make-out location, a young woman comes up with a tempting solution that benefits everyone. A party-going college girl challenges her stepbrother to lead a more adventurous life, only to discover that he's more of a bad boy than she could have ever imagined.

2.31 GB
These German sluts suck and fuck their way through each and every hot, heavy and hardcore scene! Cum watch them moan and groan as they get pounded and stretched!

999 MB
On a spontaneous chartered luxurious yacht the roughest Chicks in the world fall uncontrollably to their fantasies!

2.04 GB
World Sex Tour # 27 Shot Entirely in Prague! These girls are great! I hope you enjoy watching these ladies as much as I enjoyed shooting them! Special Thanks to the entire Anabolic team for enduring Trans-Atlantic flights, just to bring our viewers awesome erotic entertainment! This is the only Venus Vouyer video.