News

589 MB
This steamy sexvid from 1985 pulls back the curtain on the sordid shenanigans that thrive in and around Beverly Hills. Harry Reems stars as a businessman who's trying to seal a deal with Utah financier Billy Dee. Harry invites him over to his palatial estate, where Billy feasts his eyes on Harry's luscious young daughter. He eventually gets his hands on her, but not before enjoying some heated moments with both of Harry's lithesome maids.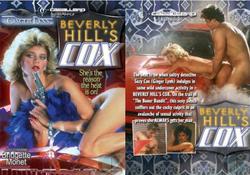 672 MB
The heat is on when sultry detective Suzy Cox (Ginger Lynn) indulges in some undercover activity in Beverly Hill's Cox. On the trail of 'The boner Bandit' this sexy sleuth sniffers out the cocky culprit in an avalanche of sexual activity that proves she always gets her man!


700 MB
Most of the time therefore, porn spinoffs or parodies fail to measure up to their mainstream counterparts. There are exceptions though. Henri Pachard's magnificent "Between Lovers" is an example of one that worked, indeed worked so well as to actually surpass the mainstream original.


750 MB
Travel back in history to the American Revolution, where the British are coming (in more ways than one); to the civil war, as a Yankee soldier finds himself a little "Southern Comfort" and to the swinging fifties, where a fast-talking greaser has a sure-fire plan to get his girl to go all the way.


806 MB
Sharon (Juliet Anderson) is the dreamer. Her dream begins with a cock-tale party where she entertains more than a dozen of her friends in a sensual way. Her husband is a young and handsome stud named Andrew, who has a perpetual hard-on for her. You'll LOVE to see what happens when Sharon wakes up!


700 MB
The plot of Big Hair Romp is so well-hidden that a gratuitous voice-over was inserted near the beginning just to provide the illusion of a plot for those of us boorish enough to need one in a porno film: two ex-cons, Stick and Spade, pick up (or get picked up by) three pretty girls, and the voice-over tells us that the two guys just did ten years in the slammer for fraud — no doubt they're the producers of this flick — and that the girls are "budding actresses from good families."


587 MB
Who says size isn`t important? Certainly not the men who lust over women with big breasts! Certainly not the women whose mouths water over men with elephantine endowments! Convinced that bigger is better, they proceed to prove it by using their physical dimensions to best advantage. Bigger The Better movie Here`s a busty, c*cky videobook of records in explicit and detailed action that will have you panting with excitement.


700 MB
One of the most rough and ready of all the 80s porno strumpets, Patti Petite blazed her way through the hardcore ranks with a string of fiery performances in the middle of the decade. A thin and rangy woman, Patti was a tenacious sexual athlete who always brought tons of full-throttle energy to her on-screen sexing.